---
New State Inspection Sticker Procedures Now Being Phased In
Information obtained from the Massachusetts Enhanced Emissions and Safety Test web site.
What is the new test and how does it work?
Massachusetts is now using an advanced computerized emissions test - the On-Board Diagnostics (OBD) test - for most model year 1996 and newer cars, light trucks, and SUVs. The OBD emissions test is designed to ensure that your vehicle keeps running as cleanly as it was designed to run, which in turn protects the air we breathe.
The OBD test is quick and easy. The inspector connects your vehicle's on-board computer to a computer in the station, and then downloads engine and emissions control data. The results are printed on the Vehicle Inspection Report (VIR), which the inspector will give you when the inspection is finished.
If your vehicle passes both the OBD test and safety inspection, it is issued a sticker. If the OBD detects a problem with your vehicle (generally indicated in advance by an illuminated "Check Engine" or "Service Soon" light), your vehicle will fail its inspection and will need to be repaired.
If your vehicle fails because the OBD system is "not ready" for inspection, it means the OBD system did not have enough valid data to evaluate your emissions system. This may happen because your vehicle's battery was disconnected and/or repair work was done on the alternator, starter, electrical system, engine or transmission recently. Usually a week of combined highway and city driving will reset the OBD system so that it will be ready for the re-test.
The VIR provides information that a repair technician can use to diagnose your vehicle's problem, fix it before it causes more air pollution, and spare you from more expensive repairs down the road.
Are any vehicles exempt from the enhanced emissions safety test?
Every vehicle must be brought in for a safety test every year. However, model year 1983 and older vehicles will not be required to have emissions tests. New cars will be exempt for the first two years.
What happens when my vehicle passes?
If your vehicle passes (and the majority will), you'll receive an inspection sticker plus a report of the test results.
What if my vehicle fails?
If your vehicle fails the emissions test, you have 60 days from your initial inspection to make the necessary repairs and take a re-test. Otherwise, you may be issued a citation or your registration may be suspended. If you have a model year 1996 or newer vehicle, your OBD system may need at least one week of combined highway and city driving to collect enough data for a re-test following repairs.
If your vehicle fails the safety test, it may not be driven until repairs have been made. After it is repaired, you are entitled to a free re-inspection within 60 days of the original test at the original inspection station.
Where can I find information on repairs and shops that specialize in emissions-related malfunctions?
If your vehicle fails the emissions test, the state recommends that you go to a registered repair shop to have it fixed. If you think you might apply for a waiver, you must have your vehicle's repairs done at a registered repair shop. Registered repair shops are conveniently located throughout the state.
Sam Giammalvo's is a Massachusetts registered repair shop.
What if my vehicle fails the re-inspection?
If you tried hard to fix your vehicle and it still doesn't pass, you may be eligible for a waiver. To be eligible for a waiver, you must have repair receipts from a registered repair technician. For more information on waivers call 1-877-387-8234. You can also see more information on the state's web site at: http://vehicletest.state.ma.us/generalinfo.html
Do you have any testing tips?
Keep your vehicle well-maintained. Generally, vehicles that are maintained according to the manufacturer's directions have no problem passing the test. And for your own convenience, don't wait until the last minute to have your vehicle inspected. Go early in the month to avoid the end-of-month rush.
Will diesel vehicles also be tested?
Yes. Heavy-duty diesel testing began February 1, 2001 and light-duty diesel car and truck testing is slated to begin in the future.
What types of vehicles are considered off-road and therefore are not tested for emissions?
* All "tracked" vehicles
* All-terrain vehicles (ATVs)
* Articulated loaders/haulers
* Backhoes
* Bulldozers
* Cranes
* Excavators
* Loaders
* Mobile hydraulic platform lifters
* Motor graders
* Pavers
* Self-contained street-sweepers, maximum capable-speed of 20 mph, such as a three-wheeled vehicle (does not include on-road vehicles with street sweeping equipment installed as cargo; such vehicles are subject to emissions inspections)
* Skid-steer loaders
* Tractors and off-road equipment used for farming (does not include pickup trucks, state trucks, tractor trailers and other vehicles designed for road use with farm registration plates; such vehicles are subject to emissions inspections)
---



The Importance Of Communication



The single most important factor in good service is communication. More complaints are generated by miscommunication than any other source. Our staff is trained to listen carefully to the information you provide, but sometimes we may not clearly understand what you are telling us. Please take an extra moment to be sure we understand your service request or question. Minor details are often the most difficult problems to solve. Coolant and oil leaks are often multiple leaks. In the case of elusive or intermittent technical problems (especially noises or vibrations), extended diagnosis may be required. If you have a noise complaint, please allow some time in your schedule for a quick road test with one of our technicians on the day of your appointment. Noises sometimes occur only under the special circumstances of your driving habits and parking conditions. Intermittent problems, especially electrical ones, are practically impossible to solve until the condition occurs for us. We will work diligently together as a team with you to get your vehicle's problems resolved.



---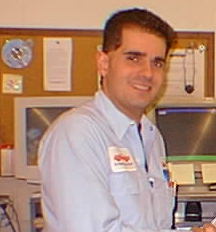 The Continuing Mystery Of Solid State Controls

by Mark Giammalvo
Why are cars such a mystery today? Why have "advances" in technology made cars more difficult to diagnose and repair?
I don't have any one magic bullet answer, but lack of service information is perhaps the greatest issue. The problem lies in the lack of information regarding vehicles' on-board electronic control systems, or, what used to be called, "solid-state" controls.
Look up solid-state in a dictionary and you will find an interesting definition. It usually says something like, "electronic devices, like transistors or crystals, that control current without the use of moving parts, heated filaments or vacuum gaps."
Although a term from the 1960s, every computer module today is still a solid-state device. To many, solid-state is any box with attached wiring that has an internal circuit board. It is the box where the magic happens – the box where electronic decisions are made. It is the box with the sticker that says, "Do not open. No user serviceable parts inside."
Automotive technicians today are expected to quickly test, diagnose and repair these solid-state devices. Unfortunately, only a small amount of information is offered about these devices on modern-day automobiles. If we're lucky, the auto manufacturer will offer a printed wiring diagram to aid in testing. If we are really lucky, the wiring diagram's wire colors will actually match the colors of the wires on the car we are testing.
All too often, the wiring diagram for the car doesn't match the colors of the car's wiring. At that point the technician is, in essence, blindfolded, not knowing which wires are supposed to carry what amount of voltage. Even when access to a correct diagram is available, the logic of the solid-state device is usually unknown. Auto manufacturers rarely print the exact strategy of these devices. Often the manufacturers will lay claim that the actual operational logic is "proprietary information." Today's medical industry faces similar challenges. Often, pharmaceutical advertisements and literature will state that a medicines "method of action is unknown." Just like automotive electronics, there is a vacuum or black hole in the information. How then can a technician repair a device when he or she does not know how it operates?
This is where many shops will have to guess and plug in a new module, which generally cannot be returned. When faced with this dilemma, some shops will refuse to work on the car altogether. Then the customer is left searching for another shop that will take a stab, guess or "shotgun" repair. Take the following examples that both our shop and
Motor Age's
Richard McCuistian have recently encountered.
A customer with a 1997 Jeep Grand Cherokee has the engine computer replaced to correct a performance problem. The customer comes back the next day stating that the keyless entry transmitter is now inoperative. The service manual advises reprogramming the transmitters through a scan tool connected to the vehicle. After performing this procedure the transmitter is still inoperative. The technician places a call to a diagnostic hotline. Now the Chrysler specialist at the hotline asks if the computer was recently replaced. Guess what the cause of the problem was? The customer had not used the new computer enough. After a new computer is installed in a Grand Cherokee, the keyless entry feature will not be activated until the engine has been started 20 times. Valuable shop time and tools wasted. The technician is left looking like a dummy. Why is this information not in the service manual?
A 1998 Dodge Durango comes in with the complaint that the four-wheel-drive (4WD) service light is on. This is strange because the truck is actually a two-wheel-drive (2WD) model. A Chrysler service bulletin is found that addresses the problem. The bulletin states that the problem is caused by a defective Heating/Ventilation/Air Conditioning (HVAC) module. Now the customer pays to have the $265 module replaced, but the 4WD light still remains illuminated. A call to the diagnostic hotline reveals more information: The battery must be disconnected for 30 minutes. Then the new HVAC module has to be configured with a scan tool. During the configuration the technician enables the air temperature display function. Finally, the 4WD light is gone, but now one of the dash climate control buttons won't stop flashing. Another call is placed to the diagnostic hotline. First the advisor asks if the air temperature function was enabled during programming. Then the advisor asks if this car has the overhead compass and temperature display. Finally the advisor tells the technician to buy a second HVAC module. Enabling the temperature display on a car without the overhead compass/temperature feature causes this failure. Once enabled it cannot be reversed. Now the shop has to replace the $265 HVAC module for free. Again, how is the technician supposed to know this diagnostic strategy if it is not written down somewhere?
A 1988 Buick Century comes in with an overheating problem. A technician drives the vehicle with a scan tool connected to view the computer's datastream. The technician is interested in monitoring the engine cooling temperature reading and the on/off command information for the engine cooling fans. On the road test, the technician notices that when the computer turns on the cooling fans, several datastream lines have scrambled unreadable data. This scenario is normally a hallmark symptom of a faulty computer. The computer is replaced, but again the same datastream lines are unreadable when the cooling fans are on. A call to the scan tool manufacturer reveals that the car's computer is fine. The manufacturer's representative advises us that they are aware of this glitch that occurs when their brand scan tool is hooked up to 1988 Buick automobiles. They are going to correct it in a future software update cartridge that we can buy when it's available.
Unfortunately, in the modern world of solid-state controls, some progression will always lead back to some regression.
In Passing.
(Obituaries Courtesy The Standard Times)
Note: Due to recent requests, we will be adding family survivors to our customer's obituaries as space allows.

William A. Meaney Sr., 78, of North Dartmouth died Sunday, June 20, 2004, at his home after a courageous battle with lung cancer. He was the widower of Bessie (Sheehan) Meaney and the longtime companion of Ernestine "Tiny" Arruda of North Dartmouth. Born in New Bedford, he was a resident of Dartmouth for the past 28 years. He was the son of the late James P. and Albina (Picard) Meaney. Mr. Meaney was a forest fire patrolman at Freetown, Foxboro and Miles Standish state forests. He retired in 1988 after 20 years of service. He was a gunner's mate in the Navy during World War II. He was awarded the Asiatic-Pacific Medal with one star, the American Area Campaign ribbon, the World War II Victory Medal and a Good Conduct Medal. He received an honorable discharge after serving for more than 3½ years. He was a member of the Freetown Veterans of Foreign Wars Post 6643, and enjoyed hunting with a metal detector, fishing, traveling, and playing cards and pool. Survivors include four sons, David L. Meaney and his wife, Sherry, of North Dartmouth, James P. Meaney and his wife, Georginia, of West Roxbury, Brian W. Meaney, and his wife, Jeannette, of New Bedford, and William A. Meaney and his wife, Kerry, of Marlboro; a daughter, Patricia L. Neagley, and her husband, Jesse, of Fairhaven; a brother, James A. Meaney, and his wife, Betty, of Orlando, Fla.; nine grandchildren; and seven great-grandchildren.

Amy (Belanger) Gamache, 71, of New Bedford died at home surrounded by her family Friday, May 28, 2004, after a brief illness. She was the wife of Raymond Gamache and daughter of the late William and Loretta Belanger. A lifelong resident of New Bedford, Mrs. Gamache was a communicant of St. Julie Billiart Church. For many years, she was a religious teacher in parishes to which she belonged. She also taught English as a second language. Mrs. Gamache was part owner and vice president of Southeastern Supply Co. before the family business was sold in 1997. She was educated in Sacred Heart schools, graduating from Elmhurst Academy in Providence. She attended Newton College of the Sacred Heart in Newton. Mrs. Gamache enjoyed travel, reading, writing, and mostly, being with her family. Survivors include her widower; three daughters, Joanne Cabral and her husband, Stephen, of North Dartmouth, Jane Filipek and her husband, David, of New Bedford and Lori Pettengill and her husband, Alden, of South Dartmouth; a son, David "D.J." Gamache, and his wife, Leslie, of New Bedford; a daughter-in-law, Mary Elizabeth Gamache of New Bedford; a sister, Rita Gaouette, and her husband, Roland, of New Bedford; a brother-in-law, Donald Gamache, and his wife, Jacqueline, of Acushnet; 16 grandchildren; five great-grandchildren; and many dear and longtime friends. She was the mother of the late John R. Gamache.

Enos V. Lopes, 89, of New Bedford died Tuesday, May 4, 2004, at St. Luke's Hospital after a brief illness. He was the widower of Sara (DeMello) Lopes. A lifelong New Bedford resident, he was the son of the late Ignacio P. and Maria A. (Valentim) Lopes. He was a communicant of St. James Church. Mr. Lopes was a partner with his brothers in the family business, Lopes Variety Store, on Acushnet Avenue, retiring in the 1960s. Following retirement, he was employed by the former National Wholesale Food Service Division. In later years, he volunteered at St. Luke's Hospital stock room.