Courtesy Consumer Affairs Inc.

Volkswagen and Audi will recall 850,000 vehicles to replace a defective ignition coil that leaves the cars prone to sudden power losses and potential engine damage.

The action comes too late to soothe thousands of VW and Audi owners. "The unreliability of the ignition problem and the lack of initiative by VW has killed any enthusiasm I have with the Passat," Paula of Horseheads, NY, wrote to Consumer Affairs. recently "I am waiting to see if the coil breaks a 4th time before 28,000 miles," said Christopher of North Smithfield, RI, whose 2001 Passat has already burned through three defective coils.

Recalled models include 2001, 2002, and early production 2003 Volkswagen Golf/GTIs, Jettas, New Beetles, and Passats, and Audi A4s and TTs. All have 1.8-liter turbocharged engines. The company's also said the defect potentially affects the VW Passat V8 engine, all VWs equipped with the 2.8-liter VR6, and the Audi 3.0-liter V6 engine. VW would not call the move a recall and has insisted for months that the problem does not involve safety, though most VW and Audi owners would disagree.

The company's policy has been to replace only those coils that had failed -- leaving customers to drive away from their dealerships knowing that another coil could go bad at any minute. There is one coil for each cylinder, meaning that each car has at least four and as many as six coils, each one a potential source of trouble. When a coil fails, it will drastically reduce a car's power. If the car is driven for an extended period with a bad coil, it could overheat the catalytic converter and cause serious engine damage. Audi and VW have known about the problem for quite some time but did not want to call in all affected models because they did not have enough replacements available. The supplier has now manufactured a large number of replacement coils and letters will be going out to VW and Audi owners.
Those with questions can call VW customer relations at 800-822-8987 or Audi at 800-822-2834.

The coil problem has been a serious one for VW and Audi and the cost of the recall will be significant. Each coil is said to cost about $60, plus installation. If VW winds up paying about $300 to repair 500,000 cars, expenses could exceed $150 million. The problem also comes at a bad time for VW, which is introducing several new models. Audi executives still have nightmares about their problems with allegations of unintended acceleration in Audi's over a decade ago.

---
Giammalvo Customer, Involved In Serious Accident, Gets Assisted By On-Star Communications Center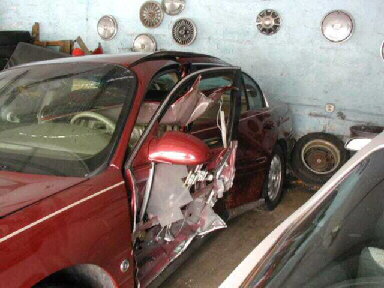 Recently, our customer, Liz St. Pierre, was involved in a serious accident in New Bedford. Liz was traveling north on Ashley Blvd. When she came through the intersection at Victoria St., a speeding 17 year old driver broad-sided her 2001 Buick. Fortunately, Liz's Buick was equipped with the optional On-Star Communications System. The On- Star System is a combination onboard cellular & satellite communications device. Before Liz realized what had happened, a voice from her car's radio speakers was asking if she was hurt. The On-Star Center had received a signal from Liz's car that the air bags had deployed and the car was stopped at Ashley Blvd. & Victoria St. The On-Star advisor told Liz that they were sending both medical and police units to her location. Needless to say, it was a traumatic event for Liz, however, she is gradually recovering from her injuries. Upon telling us this story, Liz told Sam that she would never buy another car without the On-Star System. After her insurance company declared her car a total loss, Liz purchased another On-Star equipped Buick from us.



---
Kia Loses First Battle In Class Action Suit

Courtesy: Motor Age

A federal judge rejected Kia Motors America's argument against class-action status to 10,000 Pennsylvania Kia Sephia
owners – or all Pennsylvania residents who have purchased a Kia Sephia within six years prior to the filing of the suit (the statute of limitations) – who seek damages for violations of several Pennsylvania consumer protection laws. U.S. District Judge J. Curtis Joyner declared in his 25-page opinion last December that the plaintiffs meet all the requirements for class-action status under Rule 23(b)(3) against the American division of the South Korean automaker. The suit in question alleges breach of implied and express warranties, Unfair Trade Practices and Consumer Protection laws, and the Magnuson-Moss Warranty Act. PA plaintiffs are asking Kia Motors America to ante up the costs of past and future repairs and to cover the diminished value of the car. This loss for Kia follows closely to its victory in New Jersey, where a Union county judge denied a petition for national class-action status on constitutional grounds, citing conflicts with each states' respective consumer protection and warranty laws. Kia also is battling a similar action with California Kia owners.

In Samuel-Bassett vs. Kia Motors America Inc., Samuel-Bassett, who leads the class after filing on his own behalf in January 2001, claims the vehicle has a substandard braking system that requires several brake pad and rotor replacements every few thousand miles. Bassett maintains he had five repair attempts to his 2000 Sephia at only 17,000 miles, along with shuddering, vibrating and grinding noises when using the brakes. After his brakes failed completely and caused a collision, Bassett says he was denied any reciprocation, including a refund of the purchase of the vehicle. According to Kia, in excess of 230,000 Sephia's were sold in the United States between 1997 and 2001 when the manufacturer ceased manufacturing the model. According to plaintiffs in Bassett, all had the purported braking system defects. Kia Motors Corp. in Seoul, Korea, also announced its plan to improve its overseas service network in 38 countries to start redeveloping its after-sales and service to improve customer satisfaction and "the desirability of the brand."

---
Warranty? What Warranty?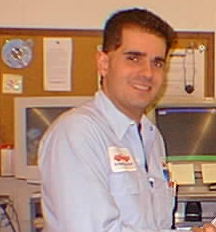 If you think your car's battery is under a long term warranty just because the decal on it says so, you'd better think again. This past winter we had a customer come in with a 1999 Chevrolet Tahoe. The customer was having to jump start the truck for several days when he decided to come in to have us check it out. A routine test of the vehicle's battery, starting and charging system revealed a faulty battery. We noticed that the battery did not look that old and it had an AC Delco decal listing it as a 6 year battery. When I called the customer, he mentioned that the battery should have some warranty remaining as he had it changed in March of 2001. I figured I would call the local Chevrolet dealer where he had it replaced in March of 2001 and ask them what the warranty pro-rate charge would be on this battery. (This is normally a fee that the customer pays for each good month of battery service. Typically it is around $1.37 per month).

Well, let's just say this is where the fun began. After researching the customer's history, the dealership service manager told us that the Delco battery in this customer's vehicle did not have any warranty left. Being in the automotive industry for more than twenty years now, I could not believe my ears. How could a battery that is just 22 months old and bearing a 6 year warranty label, not be under warranty? Just to make sure I was still alive and well, I decided to call the parts manager of another local GM dealership. Unfortunately, he also agreed with the first dealer that the battery was out of warranty. A subsequent call to a relative of mine inside GM, and the Delco 800 customer service number, yielded the same answer.

How could this be you are wondering? What is the catch? Where is the loophole? Ready for this? You'd better sit down. General Motors has a very interesting warranty policy procedure on certain Delco batteries and it is not a widely known policy. Under normal retail purchase circumstances, Delco batteries do have an excellent warranty. Their warranty is similar to other battery manufacturers like Douglas, Decca and Interstate, in that, the batteries are pro-rate warranted for 5, 6 or 7 year periods. Well, as long as they're not installed while the car is under factory warranty. That's the catch. You see, if you purchase a Delco battery over the counter at a GM dealer or K-Mart store, the battery has the full term of whatever warranty is stated on the battery's label. However, when a battery is replaced by the dealer during the new car warranty, the battery itself really has no warranty. When a battery fails in a GM car that is still under the 3 year 36,000 (3/36) mile bumper to bumper warranty, the dealer installs a new battery but that battery is only covered for the final balance of the term of the 3/36 warranty on the car. When the 3/36 warranty is over, your new battery's warranty is over. Yes, even though the label is printed with a 6 year warranty. Actually that label should not really have been on this customer's battery. In the GM Dealership Policy and Procedures Manual, there is a paragraph that states, the technician must remove the warranty decals when installing a new Delco battery in a car that is still under the 3/36 warranty.

I can understand GM's methodology to some degree. Why should they be on the hook for a 6 year battery warranty if the customer did not pay for the battery in the first place? Still, it is a little unusual. Compare this corporate philosophy to our own policy here in our facility: The majority of our vehicles come with a 90 day bumper to bumper warranty. If our customer's battery fails within that period, we install a 6 year Douglas battery. Our customer does not have to pay anything and we still give them a new battery with the full 6 year warranty.


---
In Passing.
(Obituaries Courtesy The Standard Times)


Gerald S. Ribeiro, 50, a lifelong resident of New Bedford, was a spiritual being who believed in the love of humanity. He wanted to be remembered as someone who tried to get people to understand the commonalties, to see that we are all connected. He was a U.S. Army Vietnam era veteran and also was a member of the Black Panther Party. Gerald was co-founder of Treatment On Demand and served in a leadership position until his death. In 1995 he was named The Standard-Times first Man of the Year. He also received recognition from city and state levelg overnment and awards from numerous community groups. Gerald spoke publicly about his experience with HIV/AIDS and substance abuse to educational institutions, religious groups, neighborhood associations and other public forums. He lobbied timelessly to create legislative change for issues around the twin epidemics -- substance abuse and HIV/AIDS. He rallied with his phrase, "Don't just mourn, organize."

Margaret R. (Kelly) Aguiar, 88, born in Granville, N.Y., the daughter of the late Patrick E. and Mary (Fennell) Kelly, she grew up there, but lived most of her life in New Bedford. Mrs. Aguiar had been a presser in various dry cleaning stores in the city.

Howard Cornell Mosher, 87, born in Dartmouth, he attended the University of Maine at Orono, where he studied analytical chemistry and engineering, and played trumpet in the marching band. A chemical engineer, Mr. Mosher was in charge of the chemical and rubber laboratories at Mine Safety Appliances of Providence until his retirement. Mr. Mosher was long active in the Masons and held a number of memberships. He was awarded the York Cross of Honor and the Ben Hurd Award. He was past master of the Noquochoke Lodge; past high priest of the Royal Arch Chapter; past illustrious master of the New Bedford Council, Royal and Select Masters; past commander of the Sutton Commandery; past prior of the Roger Williams Priory, Knights of York Cross of Honor; and was past high priest of the Adoniram Royal Arch Chapter. He was a member of the Abraham Howland Jr. Lodge, the Fall River Council of Royal and Select Masters and the Convent General Knights of the York Cross. During the many years Mr. Mosher lived in Dartmouth, he served on the Planning Board as a member and chairman, and on the Park and Soil Conservation boards. He was a past member of the District 3 Call Fire Department and was a former Dartmouth Town Meeting member.

"Al" Alfred Whitworth, 91, born in Marion, established and co-owned Whitworth & Co. in New Bedford, Mass., with his father and late brother, until his retirement. He graduated from Fairhaven High School, where he played football and excelled in pole-vaulting. He received numerous awards throughout New England and Pennsylvania for his pole-vaulting ability and in 2002 was inducted into the Fairhaven High School Hall of Fame. He attended Mercersburg Academy in Pennsylvania and received a bachelor of arts degree in business administration from the University of Pennsylvania, where he was captain of the track team. Immediately after the attack on Pearl Harbor, he joined the Navy and served for four years achieving the rank of lieutenant. He was a loving husband and father and widely known and respected throughout his life as an extraordinary person, a man of great integrity and honor, and a true gentleman.

Luciano Gil, 44, born in Cova, Figueira da Foz, Portugal, he lived in this area since 1966. Mr. Gil was employed as a driver by Luzo Fishing Gear. He was a member of St. John the Baptist Church.

Joseph Roger Arthur Forgue, 85, born in New Bedford, he lived in New Bedford and Acushnet before relocating to Fairhaven four years ago. He was a communicant of St. Mary's Church in Fairhaven. Mr. Forgue was formerly employed by various local grocery stores as a meat cutter, retiring from Lloyd's Market in Rochester. He was a World War II Army Air Corps veteran, holding the rank of master sergeant. He served in the battles of Air Offensive Europe, Normandy, Northern France, Rhineland, Ardennes and Central Europe. He was the recipient of the Good Conduct Medal, European African Middle Eastern Theater Campaign Ribbon and the Distinguished Unit Badge with one Oak Leaf Cluster. He was a member of the Veterans of Foreign Wars Poirier Post and a former member of the Royal Travelers. Mr. Forgue enjoyed singing and sang with the Tex Bennekee Band when he was overseas. He also sang with various groups at Lincoln Park and Acushnet Park as well as at various churches for wedding and social functions. He was a member of the Jolly Seniors.

Kim M. Blanchard, 48, born in New Bedford, he lived in Dartmouth most of his life. Mr. Blanchard graduated from Dartmouth High School in 1972 and from Southern Connecticut State College in New Haven, Conn., in 1976. A certified financial planner, he worked at American Express in New Bedford since 1984. He was the company's district manager from 1989-96. He previously was a commercial fisherman with Tonneson Fisheries in Fairhaven for eight years. A golf enthusiast, he was a longtime member of Allendale Country Club in Dartmouth and a former member of the New Bedford Country Club in Dartmouth. He was a member of the Elks of New Bedford.