---

By Mark Giammalvo


What is all this talk of hidden "black boxes" in automobiles? Have you noticed a lot of news coverage on this topic lately? Now, some of our customers are even asking me if their car is equipped with the infamous "black box." Let's start by separating the facts from myths regarding this.

Recently, many television news shows and newspaper articles have implied that these so called "black boxes" are intentionally hidden in some vehicles for the purpose of recording crash data to be used against drivers in accident cases. True, crash data from vehicles on-board computers is appearing in court rooms. In a recent case, one driver claimed he was traveling less than 50 MPH just prior to a crash. However, the vehicles "black box" recorded a vehicle speed of 103 MPH at air bag deployment. The driver was convicted of vehicular homicide and manslaughter in the deaths of two teenage girls. It is important to note that, the main intent of these devices was not to serve as post accident litigation evidence. In addition, they are not intentionally "hidden" or concealed any more than other computers in the car.

First of all, the term "black box" is taken from the airline industry. Certain large commercial aircraft are required to carry an on board "flight data recorder" (FDR) and "cockpit voice recorder" (CVR). These recorders are digital devices that are encased in a special box that is made to withstand both severe crash impact and fire. Actually, the boxes are both bright orange in color. The flight data recorder monitors many on board items like: time, altitude, airspeed, heading, and aircraft attitude. In addition, some FDRs can record the status of more than 300 other in-flight characteristics that can aid in crash investigation. The CVR records the flight crew's voices, as well as other sounds inside the cockpit.

In the early 1990's, auto manufacturers needed a way to obtain real time data to determine if a vehicle's air bags were deploying fast enough and whether certain crashes required an air bag deployment. In 1994, General Motors started to incorporate this data recording ability in their air bag control computer, or what is called the "Sensing and Diagnostic Module" (SDM). The main purpose of the SDM is to determine, based on sensor inputs, whether it is appropriate to deploy the air bags. One of the subsystems inside the SDM is an "Event Data Reorder" (EDR). Although the EDR does not record sound, it does have the ability to record data on what is going on with the vehicle for the 5 seconds proceeding and 300ms (milliseconds) after an air bag deployment. The data recorded can include: vehicle speed, throttle angle, accelerator pedal position, brake switch position, (to determine whether or not the driver is applying brakes), engine RPM, and seat belt usage. Again, the initial intent of recording this data was to determine if the air bags are deploying too soon or too late etc. In 1997, the National Transportation Safety Board (NTSB) issued recommendations to "pursue crash information gathering using EDRs." In addition, The National Aeronautics and Space Administration (NASA) Jet Propulsion Laboratory recommended that NHTSA "study the feasibility of installing and obtaining crash data for safety analysis from crash recorders on vehicles." At that point the NHTSA asked all auto manufacturers to not only store more data, but to make the data more accessible. The NHTSA's main goal of this request is to assist in real-world data collection to better define the auto safety problem and aiding in law enforcement and understanding the specific aspects of a crash. Although not by intent, this data is finding its way into more and more courtrooms. You can read more information at the NHTSA Event Data Recorder (EDR) Website at http://www-nrd.nhtsa.dot.gov/edr-site/

---
Need A Windshield Replaced?

If you have a cracked or damaged windshield, give our service department a call. We can have your windshield replaced when you are in for your next service, or immediately, if you desire. With proper coverage in Massachusetts, there is no deductible on glass claims, so you will not be charged for the replacement. We will bill your insurance company directly. All you have to do before coming in is report the glass break to your agent or insurance company. Please note that we have been hearing about some insurance companies are telling their customers that they will only pay "certain shops" that "they recommend" to replace glass. In addition, some insurance company receptionists, are connecting the customers calls directly to a national glass installation company. The customer still thinks they are reporting the glass break to an employee of the insurance company, but in reality, they are now talking to a national glass chain employee that is going to try to "steal" the glass job. This tactic is known as "steering," in that the insurance company is trying to steer the customer to a certain glass facility. In some cases the customer is even told that they may have to "pay a cost difference" if they don't choose a certain facility. These "steering" tactics are a blatant violation of state law. The customer has a "Right To Choose" which repair facility will perform the repairs. If your agent or insurance company suggests another facility, just tell them that Giammalvo's meets all insurance price requirements and that you prefer to use us. If an attempt is still made to "steer" you to another facility, please contact Mark Giammalvo at once and he will contact your insurance company and resolve the matter for you.




---

NHTSA To Shine Light On HID Headlight Study

Source: Detroit News Washington Bureau and MEMA
A new generation of headlights is lighting up the road better than ever, but they are also causing problems for other drivers, according to thousands of complaints to the National Highway Traffic Safety Administration. Regulators at NHTSA are nearing completion of a two-year review of headlight glare, which could lead to new rules for brighter high-intensity discharge, or HID, headlights that are becoming increasingly popular on premium cars and light vehicles sold by Audi, BMW, Lexus Nissan and Range Rover. NHTSA is trying to strike a balance between capturing the benefits and energy savings of the new technology, and unintended consequences. The agency also is likely to lower the maximum height for SUVs and other light trucks, whose higher lamp positions can shine into a car's rearview mirrors. Within the next two years, NHTSA will explore those and several other glare issues, including whether to regulate auxiliary lamps such as fog lights, and new rules that could change requirements on how lamps are aimed. Several of the rules could be issued by the end of the year, said NHTSA spokeswoman Liz Neblett. For those behind the wheel, the brighter, bluish HID headlights have made driving at night an entirely new experience. Objects in front of them are brighter, and the sides of the road come into view more fully. Oncoming motorists don't see it that way. NHTSA has logged nearly 5,000 comments on the issue - an unusually high number - mostly from motorists who complain about them. NHTSA officials say it is the complaint most often forwarded to them by members of Congress, who are getting complaints from voters. Even though complaints are pouring in, HID light-equipped light vehicles represent a tiny fraction of the vehicles on the road today. In recent years, only about 1% of new vehicles had them.

---



1997 Audi Recall Resurfaces




One of our technicians was recently working at home on a friends Audi. The technician asked us if we would check the vehicles history to see if any recalls were due. Sure enough, the vehicle was over due for Audi Recall Campaign KG. Research in our Alldata database revealed that Audi Recall Campaign KG pertains to certain 1995, 1996 and 1997 Audi's. We were surprised that this recall was never completed as it was first announced back in October of 1997. The Audi KG document states that "A discharge of static electricity under low humidity conditions could activate the driver's side air bag when the driver enters or exits the vehicle and inadvertently helps form an electrical circuit by touching certain areas of the steering wheel. Activation of the air bag under these conditions could cause injury." That would definitely get the drivers attention! The document also goes on to say that Audi dealers will install a ground wire to harmlessly discharge any such static electricity. Until the vehicle is corrected, drivers that are entering or exiting the car should not touch areas on the steering wheel where the center hub spokes contact the outer edge of the steering wheel. After the driver is seated, the steering wheel may be handled in the normal manner.



---
Oh no, Langostinos!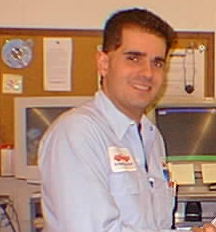 It all started with the complaint of an odor on a hot July afternoon. An 82-year old customer had pulled me aside to tell me about a "foul odor" in his car ever since we did his alignment two weeks prior. The customer seemed very concerned and I was intrigued as to what this odor could be and how it related to the alignment. I was very familiar with this customer's 1992 Mercury Grand Marquis. Not only had we sold it, we also had performed the majority of its service work over the years. Since the car was scheduled to go to the transmission shop for the infamous Ford torque converter rebuild, I made a note to check out the odor when the car came back.

Several days later, one of our employees, Joe Veiga, asked me if I would meet him out in front of the shop. Upon exiting the front door, there was Joe standing by the Grand Marquis. Unbeknown to me, the car's transmission work had been completed and Joe had just driven the car back. Joe asked me if I could check the car out right away. Joe stated that the car had such a bad odor that he almost became sick driving it back. Since it was about 85 degrees outside, Joe had left all the windows open. As I approached the car, I inhaled the nauseating odor. It literally stopped me at the door. I thought to myself: "Do I dare go into this car?" Let me tell you, this thing was bad. It reminded me of a car, years back, that I found a dead mouse in. However, the odor in this car was much worse. Another employee walked by and uttered the statement: "Good God, that's enough to gag a maggot!" A quick view of the car's interior did not reveal anything unusual. Expecting the worst, very carefully and slowly I opened the trunk. The hinges squeaked as it opened and the sun expelled the darkness. Nevertheless, other than the spare tire and jack, nothing was there. My nose told me that the odor was weak here so I headed back inside the car. I smelled each seat and floor mat, one by one. Now in the back seat, the odor seemed to be magnified. As I peeked under the passenger's front seat, something caught my eye. It was a small white box with the word "Langostinos" printed on the side. As I pulled the box out from under the seat, Joe, who had been watching over my shoulder, shouted: "Oh, no, Langostinos!" In a flash, Joe flew out of the car. I thought to myself: "Where did he go and what does Langostinos mean?" I set the box carefully on the ground as Joe returned. After recovering from a bout of laughter, Joe explained to me that Langostinos was a form of Chilean shrimp.

The mystery odor had been solved. Due to the intense heat over the past several weeks the shrimp had started to decompose. The bag, although still sealed, had puffed out to the point that it tore open the outer box. A final call to the customer brought us "the rest of the story." After asking me a few times if "I" had put the shrimp in his car, the customer had remembered what happened. The customer had purchased the shrimp at a supermarket several weeks prior. The shrimp must have fallen out of his grocery bag and slid under the seat. After decontaminating the interior with several cans of Lysol, we advised the customer to leave the windows open as much as possible over the coming week.

---

Web-Site Helpful To People Across The Country




Recently, we received quite a few e-mail "thank you's" from several automotive do-it-yourself people, (DIY). These DIY's find our "Giammalvo Quarterly" articles (which are posted on our web-site) especially helpful when the article features a car with a similar problem that they are trying to resolve. Here are two recent e-mails from people out of state.

Subject: Thank You
Date: Mon, 28 Jul 2003
From: "Gonzalez" <jgonza7@tampabay.rr.com>
To: samgauto@samscars.com

I recently used your solution to the Honda Locks Problem (Giammalvo Quarterly Winter 2003). Thank you so very much. If you hadn't posted this, I would have had to pay at least $100 to "fix" the problem. I can't thank you enough. Sincerely, Jennifer G.

Subject: Web-Site
Date: Tue, 1 Jul 2003
From: "The Wilson's" <pwilson@tampabay.rr.com>
To: samgauto@samscars.com

Your web-site is extremely well thought out. I have printed out your glove box tips for my 22 year old daughter. Nice work. Wish you had a shop in Florida.

Patti




---
In Passing.
(Obituaries Courtesy The Standard Times)

Leo E. Lafferty, 65, of New Bedford, died Saturday, May 31, 2003, at St. Luke's Hospital after a long illness. He was the husband of Priscilla (Ashley) Lafferty. Born in New Bedford, the son of Edith E. (Wagner) Lafferty of New Bedford and the late Leo Lafferty, he lived most of his life in New Bedford. He also lived in Arizona for 13 years. Mr. Lafferty was a firefighter at Otis Air Force Base for more than 20 years, retiring in 1995. Afterwards, he was a courier for Hawthorne Medical in Dartmouth. Prior to both, he had worked at the Good Year Rubber Plant as a tire builder. He was an Air Force veteran of the Vietnam War. He enjoyed working in the yard and camping. Survivors include his widow; his mother; a son, Timothy Lafferty of Arizona; two daughters, Colleen Walsh and Kelly Facinelli, both of Arizona; a stepson, David Gauthier of Rochester; a stepdaughter, Cynthia Charbonneau of New Bedford; a brother, Alan Lafferty of New Bedford; six grandchildren; three step-grandchildren; three step-great-grandchildren; and several cousins.

Lionel A. "Lee" "Magic Clown" Correa, 74, of New Bedford, died Tuesday, May 13, 2003, at St. Luke's Hospital after a long illness. He was the husband of Ruth A. (DeMello) Correa. A lifelong New Bedford resident, he was the son of the late Lionel and Florence (Andrews) Correa. Mr. Correa was a machine operator at Morse Twist Drill for 42 years until he retired in 1990. He was a magician during his military service and later entertained children and people in nursing homes. He was a skating instructor at Highland Heights Rink in Taunton and the Acushnet Roller Rink for several years. He served in the Army during World War II. He was a member of American Legion Post 166 in Fairhaven, the Rod & Gun Club of New Bedford and the Magic Wand Club. He was an avid dancer and a member of the Avadance Dance Club and Metrodone Dance Club. He enjoyed fishing, arts and crafts, and golf. Survivors include his widow; a son, Alan A. Correa of Baltimore; two daughters, Dori A. Maher and her husband, Brian, and Lisa M. Moniz and her husband, Roger, all of New Bedford; a brother, Andrew "Beaver" Correa of New Bedford; a sister, Jean Faria of Windsor Locks, Conn.; seven grandchildren, Lori Correa, Rachel Garzon, Carlos Silveira Jr., Kim Bento, David Correa, Michael Maher and Roger Moniz Jr.; a great-granddaughter, Kaitlyn Garzon; a godson, Kenneth Rezendes; and several nieces and nephews. He was the brother of the late Joseph Correa. Walter J. Murray, 86, formerly of Carroll Street, who died Thursday, July 31, 2003, at the New Bedford Jewish Convalescent Home after a long illness. He was the widower of Dorothy M. (Goulart) Murray. A lifelong New Bedford resident, he was the son of the late P. Frederick and Elvida (DeMello) Murray. He was a communicant of St. John the Baptist Church. Mr. Murray was the former owner of Henry's Bicycle Shop, located on the corner of Dartmouth and Sagamore streets. He was an Army veteran of World War II and had attained the rank of technician third class. Survivors include a brother-in-law, Nelson Goulart of New Bedford; and nieces and nephews.

John F. Alexander Jr., 71, of Fairhaven, formerly of Foxboro, died Wednesday, May 7, 2003, at St. Luke's Hospital after a long battle with Parkinson's disease. He was the husband of Mae (Lignell) Alexander; they were married 50 years. Born in Milton, the son of the late John and Victoria (Youngquist) Alexander, he was educated in Milton schools. He was a resident of Foxboro for 35 years until moving to his West Island summer home 15 years ago. Mr. Alexander retired from Acme Body and Paint in Jamaica Plain. He served in the Naval Reserve for 10 years. He enjoyed boating, model building and his family. He was a past member of the Barbershop Quartet and Toastmasters. Survivors include his widow; three daughters, Nancy Antico and her husband, Joe, and Shirley Instasi and her husband, Ron, all of Foxboro, and Jeanne Perry and her husband, Charles, of Middletown, R.I.; four grandchildren, Jaclyn, Alex, Kirsten and Lauren; a brother, Fred Alexander and his wife, Nancy, of Hingham; a sister-in-law, Virginia Doyle-Alexander Cullen of Walpole; and several nieces and nephews. He was the brother of the late Roy Alexander.

Antonio "Tony" Souza Jr., 70, of New Bedford died Tuesday, Aug. 19, 2003, at St. Luke's Hospital after a long, courageous battle with diabetes and hereditary emphysema. He was the husband of Ethel (Joia) Souza; they were married 45 years. A lifelong New Bedford resident, he was the son of the late Hortenca (Albuquerque) and Antonio Souza Sr. He was a communicant of St. Francis Xavier Church, Acushnet, where he formerly was a collector. Mr. Souza was the original proprietor of King of Pizza and was a partner at Tony & Joe's Pet Shop, both on Acushnet Avenue. He was an Army veteran of the Korean War and received the Good Conduct Medal, National Defense Service Medal, Korean Service Medal and the U.N. National Service Medal. He sponsored the Whaling City Little League teams many years ago under the name of King of Pizza and Tony & Joe's, and several other youth sports teams. He was an umpire and was interested in all types of youth sports. He enjoyed freshwater fishing and was an avid sports fan. He graduated from New Bedford Vocational High School. Survivors include his widow; two sons, Michael Souza and Christopher Souza, both of New Bedford; a daughter, Shawnee Ballard, and her husband, Donald, of Dartmouth; seven grandchildren; a great-grandchild; two sisters, Ilda DaSilva and Izaura Pinto, both of New Bedford; a niece; and a great-niece.