Welcome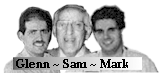 to Our Service Department....
On behalf of the family and staff at Giammalvo's, let us be the first to welcome you to our renowned service and sales facility. As a resident of the surrounding area, you are probably already aware of our stand alone reputation. We offer a very unique Promise and Philosophy to our customers.

In our service department we combine old world craftsmanship with new world technology. This technology allows us to offer you cutting edge automotive service, with benefits like:

-A Nationally Recognized Teaching/Training Service Facility:
Our service facility is featured in the National Service Journal: Motor Age. The editors of Motor Age have asked us
to write technical articles for several issues each year. We are very proud of that distinction and the national recognition that has come with it. We also believe that our customers can feel even more confident in our abilities knowing that we publish automotive service information on a national level. Click on the Motor Age Link above to see some of our articles. See us in Motor Age.
-Technicians Certified by The National Institute of Automotive Service Excellence (ASE):
(ASE) and The General Motors Training Center. In a nutshell, these are highly respected technicians that could work almost anywhere. They chose Giammalvo's because they want to work in a place where customers come first. They want to work in a place where they can take the time necessary to perform quality repairs, as opposed to "flat-rate" shops, that limit the technicians time on each job and force him to work very fast to "beat" the average time, leaving out necessary parts, and skipping steps in the service procedure, in the quest to save time.
-Alldata Service Bulletin Database
Provides our technicians with daily updated service information from many manufacturers, in the form of Service Bulletins and Recall Data. These Service Bulletins detail specific repair procedures to correct common problems on certain models. This is considered "soft information," in that the customer is not contacted by the manufacturer, yet a problem exists. Not all service facilities subscribe to this database and we are proud to have it as a benefit to our customers and technicians.
-International Automotive Technicians Network (IATN),
A group of more than 50,000 technicians that communicate together with our technicians each day via the Internet. Through the use of this service we are able to diagnose and repair vehicles quickly and accurately avoiding unnecessary parts replacement. If your car develops an unusual problem that there is no service bulletin for, we will send an E-mail to the IATN group. More often than not, another technician in the group has seen this symptom before. That technician will E-mail back the correction, or will go to a "chat room" where our technicians can communicate live, and acquire more information.
As a Giammalvo customer, take the opportunity of our many value added services like:
-Optional pick up and delivery of your car to your home or work. This is convenient when your work hours conflict with you being able to drop off your car with us.
-Comfortable waiting area with outside telephone access, VCR, various publications and whatever we can do to make your stay with us more comfortable.
-Giammalvo Quarterly is our newsletter written and published entirely by our staff to give you the latest insight into our complex industry.
-Twelve Month/Twelve Thousand Miles no questions warranty on all new parts and labor.
-Warranty History Service allows us to research the warranty status of your vehicle to determine what, if any, warranty is remaining on your automobile, and for how long. This is crucial to know in order to avoid paying for the replacement of covered parts. In addition, the warranties will usually be multi-level, with some emission parts having coverage through eight years and 80,000 miles. Most automobile warranties are intimidating to read and comprehend. Our staff will read through the legal terminology to make sure your vehicle manufacturer pays for covered repairs.
If you have any questions or just want to discuss your vehicle's needs, feel free to give us a call.

Sincerely,


Sam, Glenn and Mark Giammalvo