Service Dealer Spotlight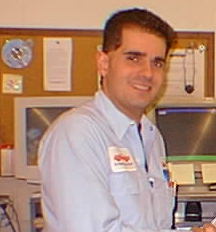 Mark Giammalvo specializes in driveability diagnostics at his family business, Sam Giammalvo's Auto Sales & Service, Inc. in New Bedford, MA.
Mark, who has been with the business for over 20 years, is an ASE Master Technician and Parts Specialist. He also holds the ASE L1 certification, and has an associates degree in business management.
Mark is also a writer for Motor Age Magazine and is the past secretary of the Alliance of Automotive Service Professionals, (AASP).

My Version
(April 2001)
History in the making, the largest automotive recall in U.S. history. But who was really at fault? Was it Firestone with faulty tires? Was it Ford with low tire pressure recommendations? I believe it is a condition that we automotive experts see practically every day. Cracks in the tires tread area or sidewall. It is the condition that the tire industry calls "weatherchecking" or "ozone damage" as the term Goodyear has coined.
At least once per week, if not more, I am recommending that tires be replaced based on this condition. There was a time when our shop was fairly lenient about this condition, until I received a phone call from an upset customer that almost cost me my reputation let alone a lawsuit. It was several years ago when a good customer asked me to inspect the tires on her car. The vehicle was a 1991 Buick Riviera and wore Michelin tires. The customer had a tire failure on the road and the repairing gas station advised her to replace all the tires due to the cracking of the rubber in the tread area. I inspected the car on a lift. The cracking was slight - in its beginning stages. I advised the customer that the problem was not that critical and that we would inspect them as usual at her next scheduled tire rotation and balance.

Two weeks later she called me, she sounded very upset. She had a right to be upset. Driving on Rt. 195 one of the tires blew out. She nearly lost control. Very, very fortunately, she was not injured. The car was O.K. She was able to regain control and pull over to the breakdown lane. Needless to say, we ended up changing the remaining cracked tires. I have sold many, many different brands of tires. All with a four-year or better manufacturer's warranty. It is interesting to note that almost all the tires I see start to crack just after four to five years from the tires stamped build date. I can not think of a brand that has not cracked. Recently we had a customer with a 97 Ford Explorer with 16 inch tires that were NOT recalled. The cracks in the tread area of those tires were so large that I was able to hide half of a dime in some of them. If the National Highway and Transportation Safety Administration forced tire manufacturers to recall tires for weatherchecking the tire industry would be crippled. Who is to blame? Goodyear representatives will tell you that this condition is caused by the sun due to the depletion of the earths ozone layer. Other experts believe the quality of the rubber used at assembly is to blame.
On a final note, I have recently sent a letter to the director of the Motorist Assurance Program (MAP). Our shop is a member and we abide by their automotive repair guidelines. The guidelines however, do not recommend replacing tires based on a cracking condition. I have asked them to consider revising the guidelines to recommend replacement.