Service Dealer Spotlight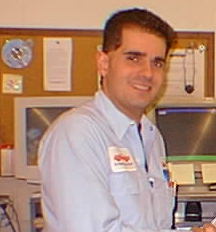 Mark Giammalvo specializes in driveability diagnostics at his family business, Sam Giammalvo's Auto Sales & Service, Inc. in New Bedford, MA.
Mark, who has been with the business for over 20 years, is an ASE Master Technician and Parts Specialist. He also holds the ASE L1 certification, and has an associates degree in business management.
Mark is also a writer for Motor Age Magazine and is the past secretary of the Alliance of Automotive Service Professionals, (AASP).

Nothing But The Best Of Care
(September 2003)
"Nothing but the best of care." I think that small statement of six little words will forever be with me. It was first uttered to my brother by a customer with an older, mid 80's Dodge truck. This particular customer was definitely not a maintenance fanatic but he did change his oil at regular intervals. He had purchased the truck second hand elsewhere and had run the odometer up to about 80 grand during his five or so trouble free years of ownership. Now, the customer had come to us in sheer disappointment. He was not disappointed with us. He was disappointed with his Dodge. The truck now needed some front end parts and the owner was not a happy camper. I was amazed as this customer told my brother and I, how upset and surprised he was that his truck had "let him down." He said he couldn't understand why the front end parts had failed. He said that his truck had seen "nothing but the best of care." I could not believe my ears. I can remember my brother kidding me later that day about what he had found when he checked this customer's service history in our computer: Tire balance: never done; Alignment: never done; Cooling Flush: never done; Transmission Flush and Filter: never done; Tune Up Service: never done; Fuel System Service: never done. The computer had also shown us that this customer had received all of our post card reminders for each of these services but never bothered to have them performed. It was just such a shock to me that this person could say that their truck had "nothing but the best of care." To me it had everything, but, the best of care. What is even more interesting about this situation is the fact that even if he had done his routine maintenance, the front end parts would have failed anyway. They did what mechanical front end parts do with mileage and age. They wear out. I can't imagine how much more upset this customer would have been had he actually done the routine maintenance. Often, during a service visit some customers will say: "Do whatever it needs." Yet, after I look up their history and read to them what needs to be done they will say: "Well, just do the oil change." It's just the way the world turns I guess. There are some people that perform all or most of their vehicle's required services and then there are the other people that just change the oil. If questioned, both would probably say that their car gets "nothing but the best of care."