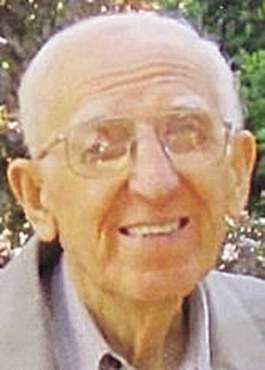 Sam Giammalvo

Family, friends and business associates remember 'honest Sam' Giammalvo
Everyone knew "Honest Sam" Giammalvo.
"Every dealer who has called me ... everyone said, 'Mark, that's the end of an era,' said Mark Giammalvo, 45, the youngest of Giammalvo's four sons who worked for years in his father's iconic Purchase Street dealership until he became a police officer. Salvatore J. "Sam" Giammalvo, 83, the New Bedford businessman known around the city as "the one you know, the one you trust," died Saturday at St. Luke's Hospital after an illness.
"Way back when the used car business was very competitive, he got that reputation amongst the customers. And they never forgot him," said Peter Giammalvo, 90, Sam's older brother.
A Korean War veteran and the son of Giammalvo's Market founder Salvator J. Giammalvo Sr., Sam Giammalvo worked for a number of city car dealerships before he shipped off to Asia while serving in the Marine Corps. After returning from service — and marrying Jean Giammalvo, who would be his wife for the next 59 years — he opened Sam Giammalvo's Auto Sales in 1963. There he worked seven days a week without a vacation up until a few months before he died, Mark Giammalvo said. The dealership became known as the place for quality, high-end used cars. Giammalvo only brought cars to the dealership that had original tires, paint and had not been used as rentals, Mark Giammalvo said.
Friends, family and acquaintances remembered Giammalvo's inexhaustible energy, his willingness to do business with a handshake and how much he cared for the people who walked through the doors of his dealership. They also remembered his love of Italian food and how he kept an index card for every used car on his lot. "He not only sold the cars, he sold himself," said Deb Brodeur, a media consultant with SouthCoast Media Group — owner of The Standard-Times — who handled Giammalvo's account with the newspaper. "The index cards were something else." The dealership will stay in the family for now, Mark Giammalvo said, although running it without their father will be a challenge. "We do miss our dad whole-heartedly," he said. "We could never fill those shoes."
---------------------------------------------------------------------------------------------------------------------------------------------------------------------------------------------
NEW BEDFORD — Salvatore J. "Sam" Giammalvo, 83, of New Bedford, the President of Sam Giammalvo's Auto Sales, Inc., a well-known area automobile dealership, passed away Saturday, May 25, 2013, at St. Luke's Hospital, surrounded by his family.
Born in New Bedford, the son of the late Salvatore J. and Luigia (Costa) Giammalvo, he lived in New Bedford all of his life. After attending New Bedford Vocational School to study automotive mechanics, Sam's first job was a repairman at the old Loughlin Chevrolet in the city. In time, he would move on to work for several other garages. His passion for cars however would come to a brief interruption when he did a two-year tour in the U.S. Marine Corps during the Korean War. Upon his return, Sam married his longtime girlfriend, Jean, who has been his companion for nearly the past 59 years.
In the early 1950s Sam decided to try his hand at selling cars and worked for several dealers on Purchase St., the same street that his father set up a fruit stand on, many years earlier, which later became Giammalvo's Market. Thinking back on his roots several years ago, Sam was quoted as saying: "Back then the assumption was that used-car salesmen were thieves, but it was just the nature of the business. So I took the same moral fiber that my dad had instilled in us and applied it to selling cars."
Then in 1963, Sam fulfilled his dream of owning his own car lot, purchasing and setting up in a small three stall garage, that building also being on Purchase Street. By 1971 the business was growing beyond the size of that small facility and Sam bought and razed two tenement houses adjoining that lot. On that now larger parcel, Sam built a 5,000 sq. ft. sales and service center. At this time, Sam also took on the General Tire Franchise, adding another dimension of service for his customers. In 1975, again needing to expand, Sam purchased the former Dale's Restaurant which was just across the street. As time went on, Sam's three sons would also work in the family business helping to contribute to its great success over the years. As Sam's business continued to grow, and customers demanded an even greater selection of his fine, hand picked automobiles, Sam purchased a large parcel of land just south east of his main lot where an additional two-garage section added to the existing building, as well as 2500 sq. ft. of additional display area for vehicles. Sam was quoted many years back as stating: "I was determined to bring my customer the best used car he could possibly get for his money, and back it up with my personal assurance that, if the car did not make good, I would." To that end, we believe that Sam succeeded in his efforts of delivering on this personal promise to his many loyal customers.
He is survived by his loving wife, Jean M. (Sylvia) Giammalvo; three sons, Steven and his wife Noreen of Oviedo, FL, Glenn and his fiancée Kathy of Fairhaven, and Mark and his wife Theresa of New Bedford; his siblings, Peter Giammalvo of Dartmouth, James Giammalvo, Sadie Martin, and his twin Vita Carr, all of New Bedford; five grandchildren, Jessica Hashim, Angelina Jay, Daniel, Andrew, and Jeffrey Giammalvo; and several nieces and nephews. He was the brother of the late Josephine Morra, Joseph and Frank Giammalvo. A private Funeral Mass was celebrated on Wednesday morning at Holy Name of the Sacred Heart of Jesus Church. Burial followed in Sacred Heart Cemetery.
The family asks that donations might be made in his name, or the name of a loved one, to Holy Family-Holy Name School, 91 Summer St., New Bedford, MA 02740, or Community Nurse and Hospice Care, P.O. Box 751, Fairhaven, MA 02719, or the MSA Coalition, (Multiple System Atrophy) at www.shy-drager.org.
Arrangements were by the Saunders-Dwyer Home for Funerals, 495 Park St., New Bedford. For online condolence book, please visit www.saundersdwyer.com.