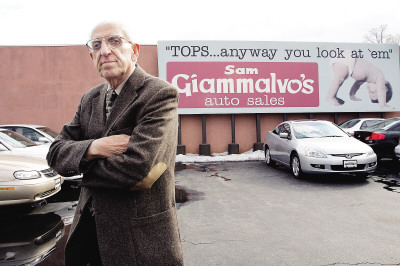 Sam Giammalvo, owner of a used car dealership in New Bedford, warns that, "People who think they can outsmart the dealer are blowing smoke. He has a bag of tricks you can't believe."JOHN SLADEWSKI/The Standard-Times
Buying a used car doesn't have to be a nightmare
Doing your research will help avoid a nightmare
By JENNETTE BARNES, Standard-Times staff writer
Quick quiz: On a car lot, what creeps up faster, the pushy salesperson or your sense of impending doom? Whatever the answer, one thing is never in doubt. Buying a car can be a soul-battering experience. At least with new cars, you know what you're getting: The smell of freshly minted plastic and the right to watch the thing depreciate as you drive away. Used is another story.

"People who think they can outsmart the dealer are blowing smoke," says Sam Giammalvo, owner of the New Bedford used car dealership that bears his name. "He has a bag of tricks you can't believe." Big offenders in Mr. Giammalvo's book are the advertised trade-in payments (the money is built into your price, even if you claim up front that you have nothing to trade) and advertised prices that don't include a hefty down payment. But be it a car, truck, van or SUV, buying a used vehicle doesn't have to be a nightmare. Narrowing your search to a few reliable models is a good idea.

ConsumerReports.org, the Web site of the well-known magazine, lists "Good Bets" and "Bad Bets" based on consistent performance above or below average over a three-year period. Some entries might surprise you. A few inexpensive cars like the Ford Escort make the "good" list, while the "bad" list includes pricier vehicles such as the BMW X5 V8, Jaguar S-Type and X-Type, and Mercedes-Benz E-Class V8. Toyota and Honda have the most models on the list of recommended vehicles — 15 for Toyota and nine for Honda. The other makers with three or more "Good Bet" models are Acura, Ford, Mazda, Nissan, Subaru, Infiniti and Lexus.

"Used cars are becoming more and more reliable," says Rob Gentile, director of Consumer Reports' Auto Price Service, "so buying a used car becomes a more attractive option." A new car depreciates 15 percent to 30 percent in the first year or two, he says. Buying a car that is two or three years old can mean big savings, and taxes and insurance will be lower, too. A used car labeled "certified" by the dealer is usually a late model with low-to-average mileage and a warranty.

In theory, the certified car "should be a better car" than an uncertified dealer vehicle, Mr. Gentile says. Still, he recommends having your own mechanic check the car regardless of a dealer's assurances. Buying from a private seller typically shaves a few thousand dollars off the price, but it's not for the faint of heart. Private sellers don't provide a warranty, and unlike a dealer, the private seller doesn't have a business reputation to protect. On the flip side, dealers make it their business to get the highest price possible. In Massachusetts, dealers are required by law to provide a warranty for vehicles that cost more than $700 and have less than 125,000 miles on the odometer. The warranty period depends on the mileage.

Jay Hiller Jr., general manager of Hiller Chrysler Dodge in Marion, recommends getting a Carfax auto history report on any used car you consider. The reports are available only online, at carfax.com, not by telephone. Accidents not reported to an insurance company will not appear on the Carfax site. A car that has been totalled bears a salvage title, something the casual buyer should avoid.

The state also has a Lemon Law that gives buyers, regardless of whether they buy from a dealer or private party, the right to return a faulty vehicle if it fails inspection within seven days of the purchase. For the law to apply, the problems that caused the vehicle to fail inspection must cost more than 10 percent of the purchase price. Enforcement, though, is a separate issue.

Melissa Sherman, a spokeswoman for Attorney General Martha Coakley, declined to comment on whether the Lemon Law is hard to enforce. But she did suggest a booklet of car-buying tips from the Massachusetts Consumers' Coalition in Cambridge. "Car Smart" is available free at massconsumers.org, the attorney general's local office at 105 William St., New Bedford, or by calling the coalition at (617) 349-6150. In general, experts say the ideal used car is a one-owner car with low mileage and a documented repair history.

The Federal Trade Commission offers car-buying tips as well. First, the agency says, evaluate the model online or in magazines. Look up the "Blue Book" value and be prepared to negotiate with the seller. Ask for maintenance records. Test drive the car in various conditions — hills, highways and stop-and-go traffic. Have the car inspected by a mechanic hired by you, not the dealer or seller. And if you buy from a dealer, check the dealer's reputation with consumer protection officials.
Finally, the FTC urges consumers to get all promises in writing.