Giammalvo Files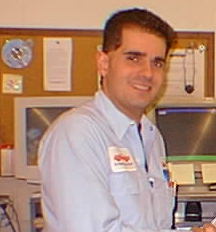 Mark Giammalvo specializes in driveability diagnostics at his family business, Sam Giammalvo's Auto Sales & Service, Inc. in New Bedford, MA.
Mark, who has been with the business for over 20 years, is an ASE Master Technician and Parts Specialist. He also holds the ASE L1 certification, and has an associates degree in business management.
Mark is also a writer for Motor Age Magazine and is the past secretary of the Alliance of Automotive Service Professionals, (AASP).

Tune Up Woes
(Printed in the Journal of The Alliance of Automotive Service Providers, AASP)
From time to time we will get requests over the phone for a tune-up estimate. Or as we hear, a
"ballpark figure."
If you have ever called us looking for a price on a tune-up, two things probably happened. First, you were most likely asked why you want a tune-up and secondly, we probably told you we would call you back after we research your car's history and try to determine what parts your car will require. What exactly is a tune-up? Ask six different technicians and you'll probably get six different answers. And the worst part is that none of them are wrong. Automotive service is still an art, a practice; it is not a science. The automotive professional must exercise his or her own judgment in determining what constitutes the completeness of any procedure. Good or bad. Right or wrong. There is no nationally accepted industry standard for what constitutes a specific repair operation like a tune-up. As a consumer, you need to understand what you will be getting for your money, but also whether that service will address the problem you are trying to solve. No tune-up, no matter how complete, can compensate for a mechanical problem such as a burnt valve or electrical sensor malfunction. However, every day across America someone will request a tune-up when what they really need is a diagnosis. People come into service departments every day and ask to have a part installed, lets say a battery, to cure the no-start problem they experienced that morning even though it won't solve their problem. The car may actually have a trunk light staying on all night. If no one performs any diagnostic testing to find that the light is staying on, and just throws in a battery, sure enough, that car with the new battery, will also not start again tomorrow because no one has diagnosed the cause, as the trunk light, will again, have drained the battery. If you call in asking for a tune-up for preventive maintenance because of the owners manual recommendation, or our post card reminder, that's smart, and that's preventive maintenance. If you call in asking for a tune-up because your car is not running well, we will ask you to let us drive and inspect the car before going any further. If we just went ahead and did the tune-up, chances are the car will leave with the same problem it came in with. The car may even be due for a tune-up, but the
"tune up parts"
are not causing the problem you are having. This is a specific case where it is crucial to diagnose the cause of the problem. Our definition of a tune-up is, checking the cars service records, (if we have been the primary service facility), and determining if the vehicle has had any "tune up parts" installed in the past. For example; if we found that your air filter was replaced recently, we would not include the air filter in the tune-up estimate because you do not need another one at this time. This is why we don't know exactly what the car needs until we check our records or ask you detailed information about what you have replaced so you won't have to pay for the installation of parts you don't need. If the car in question has never had a tune up or not had one in about 27,000 miles, we will most likely be replacing the spark plugs, pcv valve, air filter, fuel filter, inspecting the ignition wires, and inspecting the distributor cap and ignition rotor, (if the car has one, some cars do not) We will also be cleaning the battery terminals and adjusting ignition timing and idle speeds (if adjustable, some cars are not). In addition, there is some time involved in pricing a tune-up. Let's say we think we have a good idea of what parts your vehicle will need based on the information we have obtained. Now we will go to the parts room and look up your car's make, model and engine in the spark plug manufactures catalog to find the part number and see if we stock it. Next we will go to the filter catalog to look up your car again to check the part numbers of the air filter, fuel filter, and pcv valve. At this time we can go to the Alldata computer and enter your vehicles make model and engine in order to look up the average time it takes to replace these items on your car. This can reveal some interesting facts. For example, a four-cylinder Honda may only require 1.1 hours of labor to replace the spark plugs. Look up an Infinity eight cylinder and you will find that, because of where the spark plugs are located, it will require 4.1 hours of labor to replace. Wow! How's that for modern technology? We'd bet some of you would like to have words with the designer who came up with the bright idea of selecting the location of those spark plugs! Later, when your car is in the shop, we can check some of the ignition items. If the inspection of your car reveals that the ignition wires require replacing we will look up your car's application in that catalog as well. Ditto for the distributor cap and ignition rotor. Hope this helps you understand what we are up against when working with the complexity of today's modern automobiles.