Giammalvo Files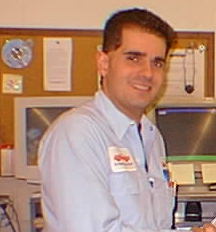 Mark Giammalvo specializes in driveability diagnostics at his family business, Sam Giammalvo's Auto Sales & Service, Inc. in New Bedford, MA.
Mark, who has been with the business for over 20 years, is an ASE Master Technician and Parts Specialist. He also holds the ASE L1 certification, and has an associates degree in business management.
Mark is also a writer for Motor Age Magazine and is the past secretary of the Alliance of Automotive Service Professionals, (AASP).

Flat Rate System
(Printed in the Journal of The Alliance of Automotive Service Providers, AASP)
Recently a technician from a local new car dealership stopped by with a trunk full of brand new parts that he wanted to sell. At first we were suspicious as to how this technician acquired the parts. After all, a technician selling parts out of the trunk is not the norm. At first we thought that maybe he, or someone else, had stolen them out of the car dealer's parts room. The technician replied that the parts were not stolen and he seemed confident that he had proper ownership of them. As we questioned him further, the story got dramatically worse. The parts were not stolen from the parts room but they were stolen from customers. Let's explain. Like many new car dealerships, this technician is on the "flat rate system". In the flat rate system, the technician is paid a certain amount of time for each particular automotive service procedure regardless of how long it takes him. For example, in many new car dealerships the flat rate time for an oil change service is a 1/2 hrs labor. In other words, the technician gets paid for 1/2an hours labor regardless of whether or not he completes the job in more time or less time. If he does the job in twenty minutes he gets paid for thirty minutes. If he takes a whole hour to do the service he still only gets paid for the 1/2hour. That's the flat rate system. One of the many problems with this system is that the system promotes speed as opposed to quality. This is where his parts came in. This technician told us that because he is on the flat rate system the technicians don't always put in the parts they're supposed to because they are trying to save time or even "make" time. How do you "make" time? If you perform a procedure that pays 1/2 an hour but you complete it in only 15 minuets, you just "made" 15 extra minutes. If this type of "making" time can be done all day, before you know it, the technician has turned a forty-hour work week into a fifty-hour work week, or more, yet they were only working on cars for forty hours. The more time they can cut the more they can increase their hourly pay at the end of the week. Many times this technician would perform a transmission flush service and not change the transmission filter. He would take the new filter and put it in his tool box. Meanwhile, the customer still gets charged for the filter on his repair bill. Among the other parts in his trunk were brand new fuel filters, spark plugs, and timing belts. Same story. A customer comes in for a timing belt replacement. If the belt is not broken and the customer just wants it changed for preventive maintenance he would not install the belt. Once again the customer paid for the belt and the labor to install it and got neither for his money. We questioned him as to whether or not the service manager of his dealership new he was doing this. He was quite sure the manager had caught on but he and the other technicians doing this are not getting reprimanded because for each part they sold on a repair order, the service manager and the technicians are getting a 3% boost in pay based on the parts sold. (See Giammalvo Quarterly Spring 1990 for an interesting article on parts commissions.) Anyway, we told the technician that what he was doing was called FRAUD, and that as far as we were concerned the parts in his trunk were stolen. Stolen from customers! In one way, we dislike bringing you the "bad news items" about the automotive industry but at the same time we feel it is more important for you to be aware of these things so you can be more conscious about your vehicle's service needs if you are out of the area and are not sure who you can trust. Obviously this does not mean that all new car dealerships operate in this manner, but you should be on your guard when receiving any type of service today, automotive or not, especially when you are unfamiliar with a particular facility. As a value added service to you, when you are planning a trip out of town, feel free to call our service department and we will supply you with a list of quality competent service providers that are in the area of the country in which you will be traveling. We will find other shops, like ours, that are members of the Automotive Service Association. Also, if you find yourself in need of help anytime you're out of town, and can get to a phone, give us a call. You can be sure we'll place you in trusting hands.