Giammalvo Files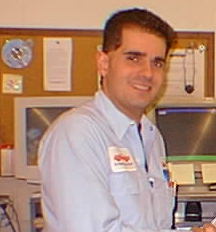 Mark Giammalvo specializes in driveability diagnostics at his family business, Sam Giammalvo's Auto Sales & Service, Inc. in New Bedford, MA.
Mark, who has been with the business for over 20 years, is an ASE Master Technician and Parts Specialist. He also holds the ASE L1 certification, and has an associates degree in business management.
Mark is also a writer for Motor Age Magazine and is the past secretary of the Alliance of Automotive Service Professionals, (AASP).

(Printed in the Journal of The Alliance of Automotive Service Providers, AASP)
How Fast Can You Go?
How fast can you go?

This week I encountered a repair request that put me in a somewhat uncomfortable and unusual situation. A customer had brought in his 2001 Toyota Highlander for a routine service. In addition, he asked me if I could resolve one other minor complaint. The customer described a loud buzzing wind noise that he thought might be coming from the roof rack on the vehicle. He told me that the noise occurred at highway speeds over 65 mph. He also added that the noise does not occur unless there is a considerable cross wind.

An inspection of the roof rack and windshield moldings did not reveal anything abnormal. I noted that there technical service bulletins for wind noise for that model car in our Alldata system.

Our technician, Kevin, road tested the car first and then came back with an update. Kevin had driven the Toyota and heard the wind noise. It occurred only at high speeds and only while traveling west bound on the highway. This was most likely due to the direction of the wind. It was agreed that I would accompany Kevin on a test drive. Because of the high speeds needed in order to duplicate the condition Kevin asked if I would drive. No problem. I headed out on 195 west. The car was silent at 65, 75 and even 80 mph. At 82 mph we started to notice a fairly loud buzzing sound that appeared to come from over the passenger's visor area. After proceeding about 7 miles I took an exit and came back on 195 east. Again I drove 65, 75, 85, then nervously, 90 mph. Now at 90 mph the car started making the noise. Since we were now headed in the opposite direction, the wind angle made the noise almost impossible to reproduce. After we arrived back at the shop, I had Kevin blow compressed at the front of the car while I stayed inside to listen. When the air was aimed at the right front roof rack mounting foot, a similar faint noise was briefly audible. I decided to seal off the mounting foot seam with some body putty. This time I took the car out again on the road myself. West bound once again, nervously scanning for state troopers, the noise was audible at 82 mph. There was no change in the volume of the noise since my attempted repair. I slowed down to 65 mph. I drove back to the shop and pondered what occurred. It hit me that at times today I had been driving 90 mph trying to duplicate, let alone correct a noise. I thought: "What am I, nuts?" Do you know how much a ticket in this state is at 90 mph? It's $225.00 which includes a mandatory $25.00 fee for the head injury fund. Is this customer going to reimburse me if I get a speeding ticket? How about the increase in the cost of my insurance next year? What if my speeding caused an accident, injury or loss of life? Arriving back at the shop I headed for the nearest computer terminal as I was anxious to complete this invoice and get on with my day. I politely wrote on the invoice that we declined the repair due to the safety and liability risk of having to drive at excessive high speeds to reproduce the noise. I also recommended that the customer may want to try the local Toyota dealer. Hopefully if their smart, they'll obey the speed limit too.