Giammalvo Files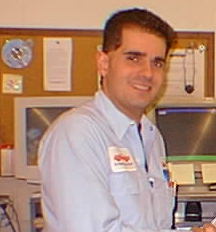 Mark Giammalvo specializes in driveability diagnostics at his family business, Sam Giammalvo's Auto Sales & Service, Inc. in New Bedford, MA.
Mark, who has been with the business for over 20 years, is an ASE Master Technician and Parts Specialist. He also holds the ASE L1 certification, and has an associates degree in business management.
Mark is also a writer for Motor Age Magazine and is the past secretary of the Alliance of Automotive Service Professionals, (AASP).

Lexus Revisited
(Printed in the Journal of The Alliance of Automotive Service Providers, AASP)
For those of you who remember the fiasco over me ordering a key to a Lexus LS400 a while back, let's just say: "here goes round two". In that last scenario, I almost got stuck paying for a $200.00 ignition key that they cut without telling us how expensive it was. As a result of that incident, we do business with a different Lexus dealer. Well, to put it in New England Yankee terms: "they ain't much better". We recently sold another late model Lexus LS400 to a customer. During the test drive, the customer noticed that both power mirrors were inoperative. Later that day I attempted to diagnose the problem myself since the customer was buying the car from us and the vehicle was outside of factory warranty. The wiring diagram revealed that this was a complex circuit involving a "Mirror ECU". The fuses that powered the mirror circuit where good so I proceeded to remove the mirror control switch from the dash. Let's just say that about 45 minutes later I finally had the switch out after dropping the lower knee bolster, hood cable, and left dash mount bolts. There was no power to any wire at the switch. I checked for bulletins but there were none for this symptom. I quickly logged onto to IATN's repair archives found nothing their either. It appeared that I would have to access the mirror ECU to check power and grounds. According to Alldata, this ECU is located behind the passenger's air bag assembly deep inside the dash. (Through sensors in each mirror, the ECU counts the turns of the mirror motors and stores them with the driver #1 and driver #2 seat position memory). I decided that we should make an appointment with the Lexus dealer, (about 50 miles away), and just pay them to diagnose and repair the system. Perhaps they would find a simpler solution to this problem. I called the dealer and they gave me an appointment about three weeks in advance, (Nov.2). No problem, its not like the car can't be driven. The customer took delivery from us and I told them to come in on Thursday Nov. 2 and we would take the car to the Lexus dealer for them. On Thursday, Nov. 2 the customer dropped off the car and I had two of our employees hike the car to the Lexus dealer. At about 3:00 PM that day I called for the status of the car. The service writer, (Bill), stated that they were busy and had not brought the car in yet. I called the customer and advised them that the car would have to stay overnight. They were disappointed but were understanding. The next day, Friday, I called the dealership again in the afternoon. Bill was busy so I left a message with the secretary for him to call me. An hour later, no call. I decided to call the dealership again. Bill again told me that they were so, so busy and had still not looked at the car. I started to complain a little on behalf of the customer. Bill told me that they were very busy with Lexus work and were even helping another Lexus dealer with their overflow of work. They said that they worked on Saturday and to call back tomorrow and they hoped by then they will have looked at the car. I called Saturday about 11:00 AM and asked for Bill. The secretary said he was busy but she would transfer me to his voice mail. I left him a message to call me with an update and advised that we would be open Saturday till 4:00 PM. Four o'clock came and went with no call. On Monday morning I again called but Bill was busy. I left another message on his voice mail. By 3:00 PM Monday Bill had still not called back, so I called again. I finally got Bill, that was the good news. The bad news? They still "had not got a chance" to get the car into the shop.

(Needless to say on our end...things were beginning to fall apart. The customer was absolutely wild that the car was not ready. I did not have the nerve to tell them that the car had not even been looked at yet. The customer was starting to question if they could have their money back on the purchase of the car. I really can't blame them. Who wants a car that you can't service? The customer was calmed down buy our promise to immediately put them in a free rental. At the same time my dad was calming down the customer, I was on the phone putting in a complaint call with Lexus Customer Assistance in California. We got the customers permission to call on their behalf. In a case like this, the customer may not want to take the time to complain to the factory but will usually give you permission to call on their behalf. If you call as an independent dealer or technician, manufacturer customer assistance employees will not usually listen to your case. We always get better results when they think the actual customer is on the phone complaining. Anyway, I called, acting as the customer, complaining about the fact that an appointment was booked for my vehicle for work at the dealership on Thursday and here it was the following Monday and the car had never even entered the shop. I told them the reason I bought a Lexus was because I wanted a reliable car and one that could be serviced when needed. The woman at customer assistance was very professional and apologized on behalf of Lexus Corporation and agreed that there was no reason after four days that the car was not at least at the diagnostic phase of the repair let alone completed).

My father got on the phone with Bill and asked to speak with the service or general manager. The general manager finally came on the line and all he could say was that they were very busy and swamped with work. My father told them that we were a retail customer, willing to pay for diagnosis and repair, and wanted to know what the heck was going on their. (My dad was right after all. It's not like this was warranty work. We all know that vehicles in for warranty service are looked at last in the scheduled work day. This was a retail job!) The service manager promised that the car would be looked at tomorrow and at least diagnosed. The service manager called the next day and advised us that the mirror ECU was the culprit and would cost #330.00 plus three hours labor to repair. They would not give us our discount on the part so my father talked them into giving us an hour's labor off the repair cost. The next day we sent our employees back to pick up the car with a check for $490.00. Not cheap but at least we could give the customer their car back.

With the car back in the customer's possession I decided to call someone I knew at the parts department of the dealership to tell them about the situation that occurred. They admitted that it was unacceptable but also stated that the service department was "out of control" with work and that situations like this were getting more common.

Toyota and Lexus really do make very reliable cars. I don't think there are may technicians out their that would question that. It just amazes me that a company with such a great reputation and corporate image could have such a sloppy dealership. I don't think the average Lexus customer, (doctors and lawyers), are going to have as much patience as we did. Perhaps the problem is a combination of the shortage of technicians, poor management, and the lack of Lexus dealerships.

Hang in, it's wild out their!

Mark Giammalvo