Giammalvo Files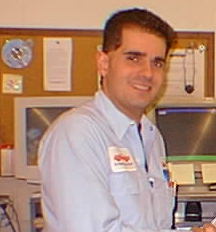 Mark Giammalvo specializes in driveability diagnostics at his family business, Sam Giammalvo's Auto Sales & Service, Inc. in New Bedford, MA.
Mark, who has been with the business for over 20 years, is an ASE Master Technician and Parts Specialist. He also holds the ASE L1 certification, and has an associates degree in business management.
Mark is also a writer for Motor Age Magazine and is the past secretary of the Alliance of Automotive Service Professionals, (AASP).

(Printed in the Journal of The Alliance of Automotive Service Providers, AASP)
Wire Woes




Recently we had a regular customer bring in his 1997 V-6 Ford Explorer with a complaint of both engine skipping and a flashing check engine light. An analysis of misfire history with our scan-tool revealed that the Explorer was suffering from a misfire condition on multiple cylinders. The cause was found to be faulty spark plug wires. Being an OBDII (On Board Diagnostics II software) compliant vehicle the PCM (Powertrain Control Module) was correct in flashing the check engine light to alert the customer to a "Catalyst Damaging Missfire." Once the customer was called and advised of the situation he made an unusual request. The customer had heard a lot about Jacobs Electronics and their ignition products. I myself have heard they offer an excellent product line. The customer asked us if we could contact this company to see if we could purchase their spark plug wire set. I told the customer I would look them up on the Internet and give them a call. After a brief search I found their web site. The site listed all their products. Everything was there but a phone number. No matter what page I viewed there was no phone number, not even a mailing address so I could place a call to information and look them up. Then, after looking at some automotive magazine web sites, I found their phone number. Upon calling them the company advisor stated that they did not sell direct to the public but only to dealers. I advised them that we were an independent dealership and not an end consumer. Still, they would not sell to us. They offered several phone numbers of dealers or distributors that we would have to purchase from. A call to the distributor proved to be quite interesting. The distributer wanted us to fill out a credit application and mail them our most recent business tax statements. I advised the distributor that all we wanted to do was purchase one spark plug wire set to satisfy a customer's request. Still, no dice. I decided to hang up. I was not about to call our accountant and turn our dealership upside down to disclose our personal business tax information and assets for a $50.00 set of spark plug wires. I called the customer an explained my dilemma. The customer was very understanding. So understanding that I decided to break the general automotive industry rule about customer supplied parts. I told the customer that if he could somehow acquire these spark plug wires he so dearly wanted, that I would install them even though we were not making any income on the parts. The customer thanked me and came to pick up his Explorer.

Approximately two weeks later the customer called to again book another appointment. Now the customer had finally purchased the wire set and wanted them installed. On the day of the appointment the customer came in with the still badly skipping Explorer. Now we had another dilemma. The wire set would not fit the Explorer. No matter how we ran the wires, even in a straight line, outside of the factory loom clips, no single wire would make the path from coil to plug. Again we offered to use our brand spark plug wires but the customer took the skipping Explorer home to again try to locate the correct wire set.

After yet another week of skipping and coughing, the Explorer was back again. Finally, this time he had the correct wire set. We installed the wires with no problem and cleared the PCM's trouble codes.

Overall it was a long haul but in the end the customer got the spark plug wires he wanted. I am left wondering though what damaged was caused in the process. Driving a vehicle skipping that badly, for that long, usually results in damage to the catalytic converter, ignition coils and ignition module. Well, it does not all happen all at once but it is usually a latent failure which can total upwards of $1100.00. Well until those symptoms begin to show up, the customer is satisfied for now. Chalk it up to another day in the life of auto repair.