Giammalvo Files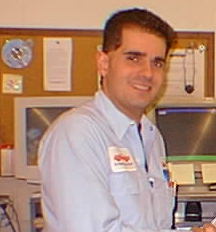 Mark Giammalvo specializes in driveability diagnostics at his family business, Sam Giammalvo's Auto Sales & Service, Inc. in New Bedford, MA.
Mark, who has been with the business for over 20 years, is an ASE Master Technician and Parts Specialist. He also holds the ASE L1 certification, and has an associates degree in business management.
Mark is also a writer for Motor Age Magazine and is the past secretary of the Alliance of Automotive Service Professionals, (AASP).




(Printed in the Journal of The Alliance of Automotive Service Providers, AASP)
Say Bye, Bye
The new car dealers must really like me. After all, I've been sending them more and more cars that I can't work on. Has that been happening to you? Well, I find its happening all too frequently now. This week a customer came in reporting his check engine light was on. Other than that, the car was running fine. The vehicle was a 1999 Mercury Sable with the 3.0 Duratec Engine.
Connecting the scan tool to the OBDII connector revealed code P1518 "IMRC stuck open." Upon reading this I wondered: "What the heck is an IMRC?" Turns out that it stands for "Intake Manifold Runner Control." The Duratec engine has one of those electronically controlled valves on dual intake runners to increase air flow for improved low-end response. As usual, the first thing I did was check for service bulletins. Bingo! I found one that read: "Code P1518 stored with no driveability symptoms." The TSB said that the movable intake runner control plates can stick open due to sludge buildup. I will tell you that it takes quite a throttle goosing to open them. I really don't think this guy was driving when the plates stuck open. This owner is about 80 and I doubt he ever drives over ½ his age in MPH. He did mention that he had just got the car back from a body shop. I can only presume that the final road test was performed by someone that drove a lot faster than him. That might explain why the plates suddenly opened and jammed in the sludge now at 38,000 miles. Anyway, the TSB said to verify that the plates open and close freely. A quick check confirmed that the plates and linkage were working fine. Guess what the fix is? Reprogram the PCM to updated calibration software with the Ford Worldwide Diagnostic System. The new program will cycle the IMRC plates during decelerations above 40 MPH at every other drive cycle. This is a typical evasive OBDII test that will occur without any indication to the driver. This will eliminate any sludge buildup on the plates. Chalk it up as another car that I had to close the hood and say bye-bye to. Once again, a nice, clean, profitable job yanked out from under the independent repairers. Not to mention the fact that it did not make me look very professional having to tell my customer that I couldn't repair his car. Perhaps the recent EPA rulings will eventually give us access to this programming information. Something deep inside me says that it will never happen though. At best, the data and tools will be probably be too costly for us to afford. The government mandated web site data access sure isn't cheap. Ford has a payment plan to access the site at 299.95 per month or 2,499.95 per year. I don't think I'll be subscribing to that anytime soon.

Is this ever increasing service lock-out just a product of technology? Could this lock-out be partially planned at the corporate level to detour repairs from the independent service market? Food for thought? What do you think?

Does information lockout bother you? Do you want to be forced to have your car serviced at the dealer? Make a difference, tell your legislators by clicking below: