Giammalvo Files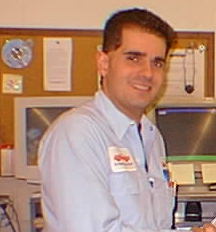 Mark Giammalvo specializes in driveability diagnostics at his family business, Sam Giammalvo's Auto Sales & Service, Inc. in New Bedford, MA.
Mark, who has been with the business for over 20 years, is an ASE Master Technician and Parts Specialist. He also holds the ASE L1 certification, and has an associates degree in business management.
Mark is also a writer for Motor Age Magazine and is the past secretary of the Alliance of Automotive Service Professionals, (AASP).




(Printed in the Journal of The Alliance of Automotive Service Providers, AASP)
Stimulating Test Drives


For those of you that don't know me, one of my many job tasks here at the dealership is assisting our sales department by accompanying customers on test drives. I've had a lot of things happen to me in the past 20 years of those test drives. Hub caps have catapulted off into traffic behind me. There were the occasional fender benders. I even had a college professor drive a 2002 Maxima over 90 MPH during a steady rain. The car was just starting to teeter-totter diagonally when he finally decided to slow down. Quite frankly, he almost put that car on its roof. More recently, were the two young fellows driving our 2002 Nissan Sentra SER. When the driver got to 100 MPH on the highway behind the shop, I finally told him to slow it down. I made a beeline for the bathroom after that one. I'll admit I'm already 36 years old but I would like to live a little longer. Then there was the guy that stole a car from me. That story goes back about 10 years ago. The car was a Honda Prelude. The customer (thief) decided to pop open the trunk while we were driving. Like the gullible guy that I am, I told him to pull over so I could close it. As soon as I stepped out of the car, he took off with the passenger's door still open. He got the car for a while but later the cops got him. Two days later, the police in Atlantic City grabbed him on a routine traffic stop. They say he tried to run but the officer was faster. Today's drive really added some icing to the test drive cake. A couple came in to drive a 2002 Jeep Cherokee. As usual, I rode shotgun in the back seat while the couple sat up front. The husband drove around our city streets not far from the dealership. After numerous accelerations and hard braking events, he pulled over. A slight odor of friction material came through the cabin. The husband questioned me about the smell. I told him that continued aggressive braking events will cause the friction material to superheat and give off this odor. Then we played "who's smarter." He kept saying that it did not seem right as his other Jeeps and Chevy trucks had never done that. I assured him that if he continued to brake that aggressively, any vehicle's brake pads would give off this odor. He still didn't believe me. I told him that if he got out right now and touched the wheels they would be so hot he wouldn't be able to keep is hand on them. After driving back to the shop he left with not so much as even a good by to me or my father who had negotiated the price and was handling the sale. Perhaps my honesty offended him. I did check the front rotors with a pyrometer right after he left. Just as I expected, more than 300 degrees. If you beat on the brakes their going to heat up. Common sense? I guess not. At the end of day I went with a nice couple and their young child in a 2002 Toyota Camry. The husband drove normally like a regular person. No continuous heavy stops, no hard accelerations, no beating on the car. They were nice to me and I was nice to them. They respected our property as I would theirs. Fortunately, most of our customers are like these people. If the majority were not, I just don't think I could do this for a living.