Giammalvo Files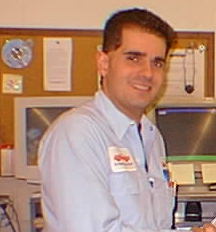 Mark Giammalvo specializes in driveability diagnostics at his family business, Sam Giammalvo's Auto Sales & Service, Inc. in New Bedford, MA.
Mark, who has been with the business for over 20 years, is an ASE Master Technician and Parts Specialist. He also holds the ASE L1 certification, and has an associates degree in business management.
Mark is also a writer for Motor Age Magazine and is the past secretary of the Alliance of Automotive Service Professionals, (AASP).




Think Cars Are Getting A Little More Complicated Lately?
(Printed in the Journal of The Alliance of Automotive Service Providers, AASP)



Think cars are getting a little more complicated lately? How's a lot more complicated sound?!

This week I came across an article in a newsletter put out by one of the technical hot line service companies that we do business with. As I quickly scanned the article, I found it hard to believe what I was reading. This article seemed to hint that a faulty MAF, (Mass Air Flow), sensor was causing transmission failure. How could that possibly be? How could a MAF sensor input be the cause of an internal mechanical transmission problem?

In specific, the article stated that the tech-line specialist had received a call from a shop technician who had been working on a repetitive problem with a slipping transmission on a 2000 Chevrolet Suburban. The article went on to state that this vehicle's transmission had been replaced initially because it was slipping badly at steady throttle and that it exhibited very brown fluid. A short time after the Chevy was back with another slipping transmission and more brown tranny fluid. This time a different rebuilt transmission was installed. Again, a short amount of time went by and the customer was back with another slipping transmission.

Now, much more thorough testing was done, including line pressure tests. These tests revealed that line pressure was much greater than normal. Although most of the sensor inputs to the transmission appeared normal, the 'calculated load' parameter in the computer's datastream was incorrect. This discrepancy leads to the technician disconnecting the MAF sensor. With the MAF sensor disconnected, the line pressure inside the transmission dropped to normal and the transmission stopped slipping.

This discovery also seemed related to information in Chevrolet Service Bulletin # 04-07-30- 013A, Titled: Automatic Transmission - Shift/Driveability Concerns/SES light on. In this service bulletin, GM states that use of an oil saturated aftermarket air filter can cause this condition. How? Too much oil applied to the air filter causes oil residue to transfer to the MAF sensor's sampling wire causing incorrect readings to the vehicle's computer. These incorrect readings are interpreted by the computer as actual data and the vehicle's computer adjusts transmission line pressure accordingly. With this incorrect information the computer forces the transmission to a constant internal high pressure state which wears out the transmission very prematurely. Technicians can either try to clean the MAF sensor sampling wire or replace the MAF sensor to correct the condition.

Several years ago I encountered a GM vehicle that I thought had a faulty transmission and the actual problem ended up being a faulty coolant thermostat. On that vehicle, the thermostat would stick open causing coolant temp to drop below 174 F. at highway speeds. As soon as the computer saw coolant temp at 168 F. it triggered the computer to remove the overdrive command to the transmission and the car would jump back to 3rd gear. Evidently that vehicle's computer strategy was such that it would not allow overdrive to engage at less than 168 F coolant temp. Sounds correct if you think about it as this is probably designed to prevent cold engine lugging or stalling problems. I caught it all happen while driving the car and recording the datastream. And to think, back then I thought "that" was an odd driveability problem.

Just another example of how difficult automobile diagnostics and repair continues to be.