Giammalvo Files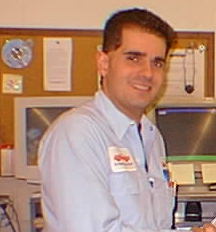 Mark Giammalvo specializes in driveability diagnostics at his family business, Sam Giammalvo's Auto Sales & Service, Inc. in New Bedford, MA.
Mark, who has been with the business for over 20 years, is an ASE Master Technician and Parts Specialist. He also holds the ASE L1 certification, and has an associates degree in business management.
Mark is also a writer for Motor Age Magazine and is the past secretary of the Alliance of Automotive Service Professionals, (AASP).




Message Delivered

(Printed in the Journal of The Alliance of Automotive Service Providers, AASP)



After going to the same accountant for some twenty plus years now, I recently decided it was time for a change. Nothing against my old accountant, he had been reliable and close by, (I would walk their from the shop).

Now juggling one full time job and, at times, two part time jobs, I decided to take a friend's advice in switching to his accountant. A friend of mine had mentioned recently that his accountant seems to be quite well versed in some additional deductions that I knew that I had not been taking.

This year, after getting my proper paperwork in order, I decided to give this new guy a call. The new accountant scheduled me for the following week. On the date of our appointment, I drove to his home office and we discussed my personal accounting details. This was somewhat of a pleasant surprise to me as my prior accountant rarely sat down with me for a one-on-one meeting. Normally, my past accountant would tell me to drop off my paperwork and then call me about two weeks later when the tax forms were ready for me to sign.

This new accountant spent over an hour with me asking me various employment related questions about my jobs and he suggested some additional possible deductions. Toward the end of our meeting, I brought up the subject of three savings bonds that a family member had recently given to my wife. I advised the accountant that I had not received any statement or paperwork in the mail from the bank on these but that we had cashed in the bonds and the money was now in a savings account. The accountant stated that since the bonds were a gift from a family member, and the amount was less than 12,000, that it would be tax exempt anyway and not to concern myself with the matter.

The accountant then told me that I could pick up my taxes the next day. That next day I picked up the taxes after work and headed home. In the mail at home that day I discovered that the bank had now sent me a form declaring the interest on the bonds. I immediately phoned my accountant to let him know about this added information. The accountant then told me to hold off on sending in the taxes and drop off the form to him for review. Later the next day, I dropped off the bank form and told him to give me a call. Little did I realize that this is where I would discover that my new accountant was not as great as my friend had claimed.

After not hearing back from him for a week, I called the accountant and left him a message for him to call me. Then, after three more days of no calls, I called again and left another message. Now, the next weekend came and went. His message machine had now stated that he would return calls on the following Monday. Monday came and went with no call. I then called on that Thursday and left a message that I was just checking to see if he had reviewed the paper work. Again, another weekend came and went. I called that next Monday. Then, I finally received a call on my cell phone voice mail, in which he stated that he would need to speak with me in person about the proper way to document these bonds as a gift. I called him back, got the message machine again, and gave him some possible dates and times that would be convenient. Again, I endured the 'no call back' treatment. At one point, I was so upset about this clown that I started to make a joke of it. On one of my next calls to him, I stated that if we could not meet in person, perhaps I could send a carrier to pick up the paperwork. I even left him a message that I might consider the UPS's Sonic Air Service, (UPS's guaranteed same day delivery within the U.S.), keep in mind that this idiot and I live about 1.4 miles apart. That's how crazy things got.

To make a way too long story short, I finally met with him the 4th week of this past March. We went over the proper reporting of the bonds and he showed me the additional forms and paperwork that we would need. I think I was in a daze that we had actually meet again after all the nonsense that went on with, what might just be, a new Guinness Book World Record for the longest Phone Tag Scenario.

After he spoke, I advised him that I thought that he was a very smart accountant and very knowledgeable in tax laws. I then advised him that although he was probably 15 or so years my senior, he had a lot to learn about business practices and that quite frankly, what little business practices he had, stunk.

I told him that after working some twenty plus years in a family business, I could tell him that I try to make an effort to call people back the SAME DAY they call me, or at worst, the NEXT DAY. I told him that he was wrong, in leaving me hanging a total of seven weeks over phone tag. Then I then left his office.

This week I was shocked to receive a letter from him in the mail with my original uncashed payment check. His letter read: "Enclosed, find your check dated February 2, 2007. I have a personal policy that if my client is not satisfied with me I return their fee to them. Thank you for showing me my weaknesses in my business practices"

Well, I guess it was a happy ending after all. One might say . . . message delivered.