Giammalvo Files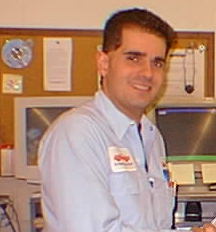 Mark Giammalvo specializes in driveability diagnostics at his family business, Sam Giammalvo's Auto Sales & Service, Inc. in New Bedford, MA.
Mark, who has been with the business for over 20 years, is an ASE Master Technician and Parts Specialist. He also holds the ASE L1 certification, and has an associates degree in business management.
Mark is also a writer for Motor Age Magazine and is the past secretary of the Alliance of Automotive Service Professionals, (AASP).




And The Technology Continues

(Printed in the Journal of The Alliance of Automotive Service Providers, AASP)



Several weeks ago, our local part's supplier put on a Delphi Fuel Systems Training Seminar. Two of our technicians attended as well as my brother and yours truly. It was surprising to see such good attendance at this seminar. Perhaps the fact that food was served was an increased draw. However, considering typical attendance levels I have seen at past training sessions, combined with this being between the holidays, it was quite a decent turnout.

Our particular part's supplier was dropping their old fuel pump line due to increased returns and labor claims and was now switching to the Delphi brand. Several different issues came up as a cause for fuel pump failure, the highest cause still being fuel quality issues. Delphi has seen their share of returns, and when they disassembled the returned pumps, they found that the pumps were filthy inside. The instructor reminded us that the fuel tank should be flushed out and cleaned when the fuel pump is replaced. This of course, is not always easy to do and then there is the added problem of how to dispose of the old fuel.

Even more interesting however was the instructor's presentation of the latest in electronic fuel controls. One of the overhead slides really caught my attention. The slide was a simple shot of a Volkswagen fuel pump relay circuit. This was an eight-pin relay. Most interesting were the relay pins that connected the relay to the air bag control computer as well as the driver's door control module. The air bag control connection was not a surprise as VW is not the only car to interrupt fuel pump power on air bag deployment. This in itself, seems like a great safety feature. The shocker to me was the circuit connecting to the driver's door module. By VW design, the fuel pump is given a 2-second prime whenever the driver's door is opened. It would seem that the VW engineers have figured that an engine start is probably the next thing to happen after the driver's door is cycled. Might as well prime the fuel pump after the door opens right? I am not sure if this is because they are concerned that a driver may cycle the key from on, to start, too quickly for proper prime, resulting in extended cranking time? Anyway, it seems like a good idea as long as technicians are aware of this intentional design. I can just picture a technician running a fuel pressure test with a gauge hooked up to one of these vehicles. Imagine the expression on his face when the fuel pressure gauge needle jumps up every time he opens the driver's door. Well, as they say, forearmed is forewarned. Or is it forewarned is forearmed? Whatever.

Another interesting bit of technology brought up by the instructor was; low fuel levels and their corresponding effect on PCM Controls. It is pretty widely known nowadays that OBDII PCM's monitor fuel level via the fuel gauge or a secondary tank reporting device. Initially, this was done so that the PCM will not perform an Evaporative Emissions Test if fuel level is greater then 3/4 or less than 1/4. If you've ever heard some drivers report that, when fuel levels are below 1/4, it 'seems' like the fuel level falls off even faster, as if the engine is using more fuel. Turns out, this is not too far fetched. Our instructor stated that many PCM calibrations force the fuel injectors to spray a richer mixture when fuel levels are below 1/4. On these cars, the PCM is intentionally programmed to enrich the mixture for fear that the fuel pump will suck up an air pocket. If this occurred, a lean misfire could result and this would be noticed by the driver. As we have seen many times in the past, today's PCM's have the ability to mask more and more problems. So, if it seems like that the fuel gauge is dropping faster when it gets to 1/4, don't worry, it's normal.